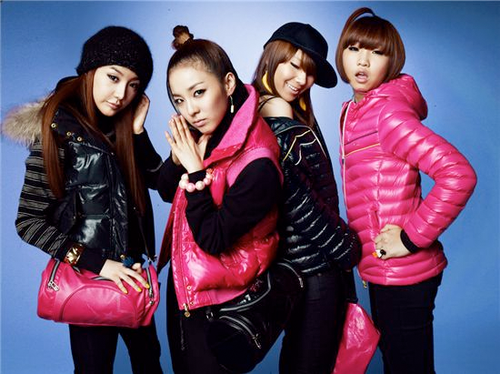 [from left to right] BOM, DARA, CL, and MINZY
|Official Site|
They have been called the female Big Bang and everyone was waiting for their musical debut. Originally planned as a female trio, CL, DARA, BOM, and MINZY teamed up with the infamous Korean pop boy group Big Bang to make a catchy, colorful video called "Lollipop". It was not only did it show off the girls' talents, but another version was filmed to promote CYON, a cell phone brand. The song spread like a wildfire and the public waited for more.
The girls busted out with another hot, catchy track called "Fire". They decided to make two different versions of the music video to showcase their creativity, uniqueness, individual personalities, and various talents. The space version gave us a clue to each girls personality and the street version focused more on the dance aspect that most KPop fans expect from Korean pop talent.
The girls kept themselves busy between each single release, leading up to the debut of their first mini album. They did interviews, various lives, cover songs of popular U.S. artists like Rihanna and Jennifer Lopez, and taking part of dance showcases with other female KPop artists.
Soon, they released "I Don't Care", a more mellow song that empowers girls in bad relationships to let things go and move on to something better. Once the single dropped, self titled mini album followed that featured the songs that brought the girls into the spotlight along with 4 newly released tracks.
Looking at the path they've created for themselves, 2NE1 has a very promising future. These girls have attitude and their sound and image are quite the opposite of other popular KPop girl groups like Wonder Girls and Girls' Generation. They're not afraid to get down and dirty and show that girls don't always have to display excessive innocent cuteness or sexiness. They follow along the hard hitting style of BoA and keep the fans wanting more. I hope the girls never change their image to something doesn't suit their original concept and continue to bring amazing and addicting tracks.