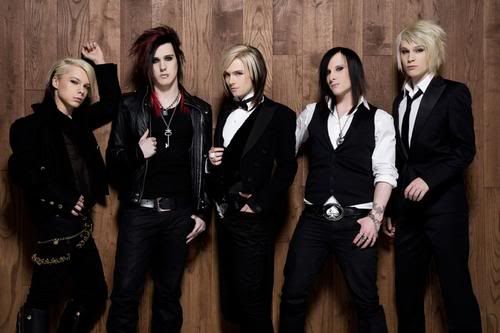 [from left to right] Kiro (bass), Yu (guitar), Strify (vocal), Rom3o (keyboard), & Shin (drums)
I'm not sure which online buddy sent ma link to "Lovesongs (They Kill Me)" video, but I immediately thought they failed despite their inspiration from jrock bands and artists. Looking at their work now, they have gone more the glam rock route than Tokio Hotel.
Band Chemistry
Unlike Tokio Hotel, the spotlight seems to be immediately set on the pretty boy blondes, Strify and Kiro. The others seem to sit back and just be cool, laid back background items. Sometimes it seems like they're in their own little world while Strify and Kiro pass the microphone between them and Strify is definitely the camerawhore of the group, always wanting to be in the spotlight. It's kinda sickening.
Appearance
Cinema Bizarre depend on appearance a lot. Taking advantage of their glam pop/rock label and having fun with their jrock influences in costumes and make-up, makes me believe that making amazing music is a second priority, like a gorgeous jrock indies band with mediocre musical abilities.
Music
Cinema Bizarre is more like 90's keyboard pop/rock bands like Orgy or Deadsy, just less mind blowing. Their music definitely sticks to you whether you like it or not. Balancing memorable guitar riffs, consistent bass lines, and mystic keyboard sounds give the band musical potential. Strify's vocals aren't that bad either especially combined with ex-keyboardist Luminor's hauntingly deep voice luring you in.
Music Videos
From what I've seen, the band bases their videos on beauty shots and sometimes dramatic special effects a lot. At times, their visuals do not relate to the lyrics or mood of the music at all. It seems they pick things that look cool and put half an effort into performing emotionally. "Forever or Never" and "Lovesongs (They Kill Me)" are the only partially decent videos that I somewhat enjoyed.
Live
As mentioned before, I believe Cinema Bizarre cares more about appearance than their music. They tend to use their fans to make up for their lack of energy and still kinda obivously half-ass their performance by worrying about their hair and doing a poor job of fanservice, if you can even call it that. Sometimes it appears that Kiro is lazily plucking away at his bass while Strify tries to imitate Miyavi's sexy hip movements while distancing themselves from their fans on an emotional or at least more intimate level.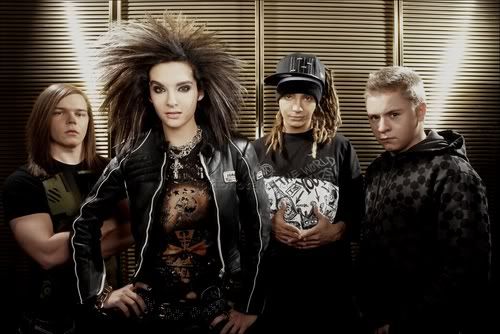 [from left to right] Gustav (bass), Bill (vocal), Tom (guitar), & Georg (drums)
I don't remember exactly how I got into this German pop/rock band, but I think my curiousity peaked from a former LiveJournal friend and many Bill and Tom icons prodding me mentally. I checked out their music and videos and fortunately caught them before their growing popularity in the U.S.
Band Chemistry
Reviewing a few clips they made for U.S. fans and some making of's for their music videos, the members get along very well like old high school buddies. Lately, with their growing popularity overseas, the balance has been thrown off by putting the Kaulitz twins in the spotlight and forcing Gustav and Georg to plaster a smile on their face and go along for the ride in the backseat.
Appearance
Opposite of Cinema Bizarre, Tokio Hotel don't waste time with coerdinated outfits or entricate costumes. They just wear whatever suits them and stay comfortable with themselves. They do keep themselves together like putting time into accessories, hair, and minimal make-up.
Music
Even though their music wasn't uber hardcore, headbanging rock, but it's simple, catchy rock songs that shouldn't challenge many aspiring musicians to learn. Tokio Hotel's music vary from catchy, group participation songs like "Schrei"/"Scream" and slow songs that make you sway to the acoustics like "Durch den Monsum"/"Monsoon". No matter what the song is, their music will stick to you even if you don't enjoy them.
Music Videos
Once you've gain major reign of your country's tweens and teens, bands usually go all out with cinematography and special effects. Tokio Hotel have kept their videos simple, yet creative to keep viewers', old and new, attention. "Der Letzte Tag" took the band on a rooftop to perform for their fans below. "Rette Mich"/"Rescue Me" has a few effects, but fits the mood of the music and lyrics to pull you in.
Live
Fortunately (or unfortunately), I've had the chance to see these guys live, during their first U.S. tour. Basing off of what I've seen on my computer and what I've seen in person, I believe they depend on their fans too much to make up for their lack of energy like Cinema Bizarre. They are on the edge of making a great stage performance, but they hold back with their upbeat songs and don't add enough passion to their slower songs to truly connect with their fans on an emotional level.
Overall Evaluation
Both bands have great musical potential, especially if they plan on taking over other countries outside of Germany. They also have the potential to put on an amazing live if they both take a couple months vacation to Japan and observe their jrock idols on stage to improve their band chemistry on and off stage, their interaction and connection with their insane, rabid fans, and their energy level with every song they perform. If they both improve on those points, then there would be some major competition between them like Backstreet Boys and *N'SYNC. But for now, I think Tokio Hotel is a step ahead of the game compared to Cinema Bizarre.