Kara - Pandora (2012, South Korea) Rating: 3/5
Favorite Tracks: Pandora, Way
Kara never strays too far from their signature

retro electro sound -- they just tweak and modify it a little at a time. This might not be a bad approach as I interpret this as Sweet Tune's attempt to recreate the huge wave of success they found in previous hits such as 'Mister' and 'Lupin'. "Way" is an infectiously cute song that combines an assortment of electronic beats and synths with a colorful melody to create a futuristic jpop-esque track. "Pandora" takes a little detour with a dark but energetic style amplified by its edgy guitar riffs and cascading synth effects.The harmonies are pleasant to listen to and I feel like the song is mixed in a way that made even their weakest vocalist sound impressive. "Idiot" gives off a similar vibe as the first song. It's a bubbly, summery track that reminded me of 8bit nintendo game music – a genre that I would ordinarily find quite charming. Unfortunately, the immature, childish vocals make up one of the most nerve-grinding songs I've ever encountered in kpop. I would have appreciated a little auto tune magic in this track. The mini-album closes with "Miss U," an upbeat, swing, jazz-influenced piano tune that features big band style instrumentation. I didn't really care for this song because I'm not too big on anything of this genre. Overall, I wish the other songs on the album would have retained the sexy, dynamic sound found in 'Pandora'. It might have given them a unique edge over all the other girl groups. I hope in the future DPSmedia realizes that one well-polished title track is not enough to sell us on Kara's mature image, nor is it enough to make Kara's singles worth investing in.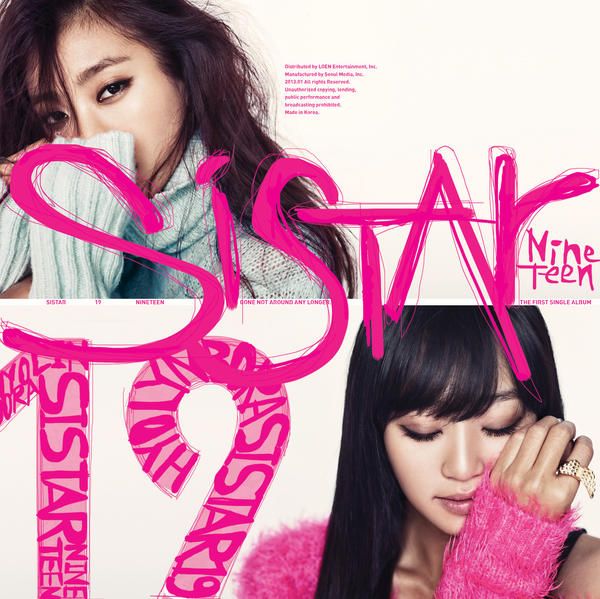 Sistar19 - Gone Not Around Any Longer (2013, South Korea) Rating: 4/5
Favorite Tracks: Gone Not Around Any Longer, A Girl in Love
Subunit duo Sistar19 is back with a slow, sultry r&b title track that follows the current heartsick, melancholic theme that's been so popular this year. I'm convinced that "Gone Not Any Longer" is a filler track that didn't make it onto Sistar's "Alone" album. Just like with Sistar, Hyorin dominates this song, leaving little room for Bora to show off her talents. Hyorin exhibits full control over her slightly husky, soprano range voice. She doesn't rely on adlibs to convince us of her singing capabilities. Her technique is incredible and it's easy to understand why they shine the spotlight on her so often. The
saxophone and piano melody really complimented Hyorin's vocals nicely and added to the overall sophisticated, sensuality of the song.
So I'm at a loss to understand why Bora's misplaced, monotonous rap was even added. I felt like it interrupted the flow of the song and made Bora seem like she was just a featured artist or an afterthought. Luckily, the second track redeemed her a little. "A Girl in Love" continues their mellow
urban sound but adds a more dance-able beat.
This time the duo maintains the perfect balance as Bora's rap is confident and even a little playful in its delivery, while Hyorin's flawless vocals are the
proverbial icing
on the cake.
This was another one of my favorites, one I could find myself playing over and over again.
This short album wraps up with "Ma Boy," a classic r&b tune that's pretty original to kpop but not exactly in a good way. Honestly, it's a love it or hate it kinda track. I mo
stly thought it unnecessary for th
em to include an extra from their debut single, but again that's only because I didn't enjoy the repetitive hook, bland rap insert and Hyorin's pitchy vocals here. Yes, for once I didn't care for Hyorin's voice. Other than that, I felt this single effectively showcased the classier side of kpop and I can't wait to hear more from these two.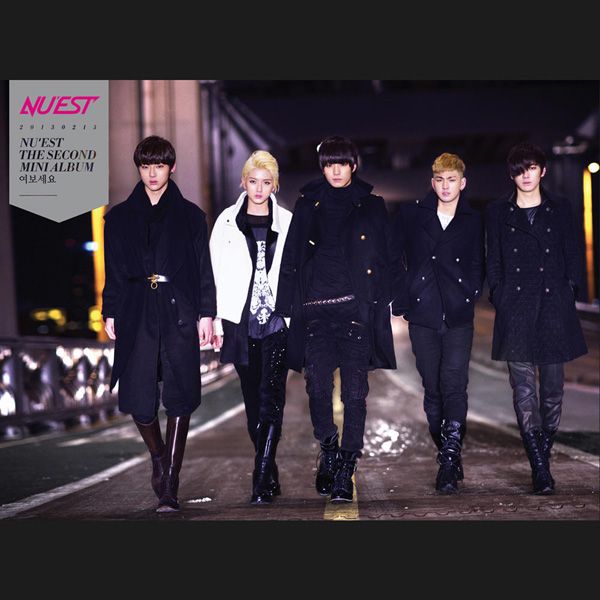 Nu'est - Hello/The Moments (2013, South Korea) Rating: 3.5/5
Favorite Tracks:
Hello, Hello Hello
I've been patiently awaiting rising star rookie group Nu'est's return from their 6-month hiatus because I've enjoyed what they've put out so far. As we all know, the kpop market is already over saturated with groups that recycle the same generic musical formulas. So I wondered, "Could Nu-est churn out another attention-grabbing title track like the ones found on their previous mini albums?" I convinced myself to give it a try, hoping I'd find another reason to keep my eye on them. I couldn't help but feel a little disappointed that the album begins on a mid-tempo note, but my expectations weren't exactly crushed. Warm acoustic riffs and sentimental piano melodies blend together to elevate clean, evenly distributed vocals in "Hello." Truthfully, I wasn't very fond of it at first, but I realize it is a good idea for them to have chosen a promotional song that showcases their singing abilities early on just to let the public know they aren't one-dimensional. Nu'est returns to its roots in "Hello Hello," which gives me a little bit of hope. This synth-driven, power pop tune pulls from most of the musical conventions currently popular in kpop. And while it's not exactly original, the pulsing bass-line and slick electro trance buildup towards the chorus still makes this song worthy of repeated listens. The third track, "너네 누나 소개시켜줘The Girl Next Door," begins with a talking introduction (a voicemail message, perhaps?) over a piano rendition of "Mary Had a Little Lamb," which made me immediately exit my itunes application. After a few minutes of prepping myself for the song, I decided to give it another go. This song throws me for a loop when a 70s era r&b accompaniment kicks in. Once again, I'm happy to compliment them on their harmonizing, but this is not something I'd listen to all the time. Break out the tissues and a half pint of ice-cream for this next song. "조금만 A Little Bit More" is yet another typical, filler drama ballad. The first thing I picture the moment this song starts playing... is a screen and credits rolling in slow motion. The end of some movie or a TV Drama? Not exactly a good thing. But it's still worth listening to if you're in the mood for sweet, heartfelt vocals sung over dramatic string instrumentation. The album concludes with "Beautiful Solo," which treads unfamiliar ground with an energetic, pop rock set up that reminds me of something B1A4 would have put out in their earlier releases. I applaud Nu'est's efforts to explore a different side of their talents, but I can't say this is their strongest release. Hopefully in the future, we'll see even more improvement as they build on what they've done and succeed in creating their own niche.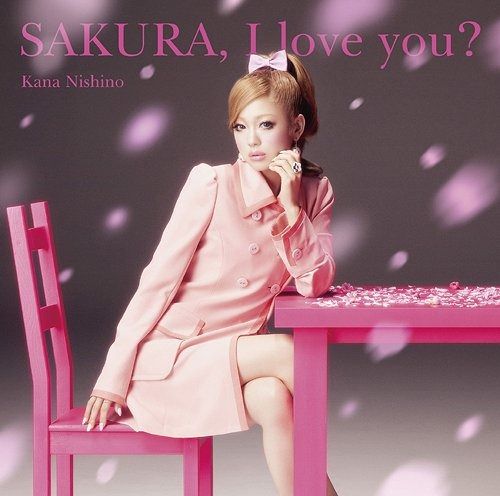 Nishino Kana - Sakura, I Love You (2012, Japan)
Rating
: 3/5
Favorite Tracks: Sakura, I Love You, My Baby
This little gem of a single came to me during a time when my music listening had sharply declined in favor of non-media related hobbies. Coming from someone who absolutely loooves J-r&b style singers, I was definitely in need of something familiar but fresh to help pull me out of my music slump. "Sakura, I Love You" is pop-oriented with colorful vocals and a catchy, almost tropical sounding chorus to go with it. Even though this song could be strictly classified as jpop, I still felt as though it would fit in quite nicely on a j-urban themed playlist. "My Baby" is a sentimental, filler-esque slow-jam. It may not be my style, but I was still impressed with how smooth the combination of English and Japanese was in this song. "Sweet Sweet" amps up the beat, with a synth-filled, bubbly "pretty girl" theme song. There didn't seem to be much of a difference between this track and the opening track in terms of the mood it brings and there's something really infectious in the way she raps between the chorus. Needless to say, I was impressed with Nishino Kana, and after listening I experienced one of those "If only I would have checked her out a billion years ago" moments.
Nell - Holding onto Gravity (2012, South Korea) Rating: 4.5/5
Favorite Tracks: White Night, Holding onto Gravity
Nell is one of many k-indie bands that successfully infuses emotion into their music in a mature and authentic way. I've found myself able to relate to many of their songs on a deeper level, and I often listen to them whenever I need a break from manufactured kpop tunes. I thoroughly enjoyed their last two albums, so I felt I wasn't taking too much of a risk to order this latest single without listening to previews. "

Coinseller"

is a short simple instrumental with a distant, resonating acoustic melody that creates a smooth transition for the second track.

"White Night"

carried me away with its lush arrangement and emotionally rendered lyrics. There was a feeling of ethereal, dreamy ambience in this particular track that was – for lack of a better word – absolutely lovely. The percussions fit nicely and even brought out the best of the song, second to the vocals of course.

"Holding onto Gravity"

continued on that note, with the perfect combination of strings, cymbals, and acoustics. The blending of instrumentals in this track works superbly with Kim Jong-wan singing as their front man. The final song on this ep is "

Blue,"

which opens with the soft sound of rain and pulls you along gently with a soft steady beat and

bassline

. The vocals are nice enough to fit the song's overall longing and contemplative theme. Every song seamlessly runs into the next, bringing with it subtle differences that allow the album to feel cohesive. I encourage anyone who hasn't given Nell a try to start with this short album as I feel its one of their most accessible releases.