Here is the second part of our Monthly Favorites for January. Please enjoy!
Miko's Favorites
DJ Snake - Encore (2016, USA)
I think I've become that person that's constantly trying to catch up on stuff. There's evidence from this blog, my iTunes library, YouTube watch later list, and so many other things. This is one of those albums I jumped ahead of the order to listen to after listening to a certain surprising track. Most people know DJ Snake for his collaboration with Lil' Jon and it's possible they might recognize his signature sound in "Lean On" with Major Lazer and MØ, which was easily one of my favorite songs of 2016. While checking out related videos in YouTube, I fell in love with the video for
"Middle" featuring Bipolar Sunshine
, then backtracked to a song not featured on the album with AlunaGeorge in an attempt to procrastinate looking at his collaboration with Justin Beiber. Eventually, I clicked it and I was surprised that it was the mysterious dance track I enjoyed on the radio. It totally didn't sound like the Bebs! It was really hard to admit that it was my favorite song on the album. It has such an enjoyable music video and the song is addicting. As for the album, it stays true to the sound I'm used to from "Turn Down for What" and "Lean On" while mixing Euro dance, somewhat abrasive electronic dance, and trap beat elements in a very enjoyable package. In 2017, DJ Snake released a new music video for
"The Half" featuring Jeremih, Young Thug, and Swizz Beatz
. Some of my favorite tracks from the album are "Pigalle", "The Half", "Middle", and "Let Me Love You".
Hidden Figures (2017, USA)
Starring:
Taraji P. Henson, Octavia Spencer, Janelle Monáe |
Directed by:
Theodore Melfi
As we transition from 2016 to 2017, there was one movie I felt obligated to see in January and it was
Hidden Figures
. Normally, I don't get too excited about these historical/biographical stories, but because this was one of many untold black stories that focused on women, I felt like this would be a very important movie. I saw this movie with my mother, a co-worker, and her granddaughter the week after its release on Martin Luther King Jr. Day and the theater was surprisingly packed for an 11 am showing. Despite the two hour running time, I felt like my knowledge on that era of American history had greatly expanded and I felt so inspired about the feats these women overcame (and a bit dumb because I'm not the greatest with math). Seeing this star studded cast of amazing black female talent also contributed to my excitement.
Hidden Figures
managed to balance education, encouragement, and entertainment with its content. It also knew how to show off each characters' struggle and how they overcame it to meet one major goal. I seriously hope that every woman, no matter their race, felt significantly empowered and that men also encourage this feeling for every woman they encounter in their life. In short, this movie features some truly effective and believable acting, informative and inspiring content, good pacing, and a great mix of era appropriate and modern soundtrack provided by Pharrell.
Sweet/Vicious (2016, USA)
Starring:
Eliza Bennett, Taylor Dearden, Brandon Mychal Smith |
Episodes:
10
While watching the occasional
Catfish
marathon last year, I saw advertisements for this show and it seemed a bit vague, but interesting. It was definitely something I don't think I've seen on television before. The show premiered in November 2016 and slowly lured me into its narrative. The show's main focus and drive revolves around a triggering topic of sexual assault and how society handles it. The story follows our two female protagonists Jules and Ophelia, who are quite the opposite when looking at their lifestyles. Jules is a proud sorority sister and Ophelia is a carefree student and hacker that sells weed on the side. These two individuals come across each other while Jules is in action as her "alter ego"; someone who fights for rape victims by attacking their attackers. Her motivation for seeking vengeance or correcting injustices is caused by her painful past of being a rape victim herself by someone she knows and trusted. All in all, the show doesn't just focus on the various aspects of sexual assault, but touches on trust in relationships, whether romantic or platonic. I really enjoyed the rollercoaster ride I experienced with Jules and Ophelia. They got into a lot of trouble, but they also made a lot of significant growth over each episode, which made me really enjoy these characters. I also liked how they handled such a sensitive topic by exploring different perspectives and injustices related to it. There was also a movie short they featured after one episode starring Zoe Kravitz, which was both infuriating and eye opening, but drove the point across very bluntly. As I type this recommendation, there has not been a confirmation for a second season, but there are talks with the creator and MTV on a potential continuation. Honestly, the way the season ended it looked like there was so much more to come for our fierce vigilantes and I'm looking forward to it!
Nanbaka (2016)
Episodes:
13
Since I started watching new series as they become available through each season, I make sure to go through the release list on MyAnimeList and pick what sounds the most interesting to me. I'm usually pretty good at keeping up with these new additions along with my own personal rotation, but recently I've been slacking, which makes me sad. Nonetheless, I was determined to finish this series to give a proper recommendation for this post. When I started this series, I was unsure how I felt about it completely. I knew I enjoyed the vibrant colors and animation, even though I have no idea why everything's so sparkly and I really enjoyed the characters, even though at times I felt like I wasn't sure if they had much depth to them. Once I started seriously watching it to finish it for this post, the story started to tap into the dramatic areas, giving Jyugo some traumatic and mysterious backstory that made me enjoy him more as a character. The New Year's tournament weaved in and out of its comedy by mixing that backstory with some of the new characters the show introduced with some crazy and meta action, especially when it came to my favorite character Nico. I must admit that in the beginning I wasn't sure where the story was going as I had a hard time taking it seriously with its almost nonexistent plot, but things slowly came together around the tournament and the story behind Jyugo's shackles. Although, I must admit I feel like this series could tackle certain elements a little more cohesively, I still managed to enjoy this ping pong story of comedy and drama. I don't think that everyone would enjoy such an outrageous and a bit unstable storyline, but I'm looking forward to delving into the second season and possibly cosplaying Nico in the near future.
Kamisama Kiss (2008)
Author:
Julietta Suzuki |
Volumes:
25
Obviously reading manga takes quite some time to complete, especially if you're not fluent in Japanese. You have to wait for publishing and distributing companies to release series in your native language, for me that would be English. So, this series has not been completely released, but it is slowly coming to an end this year. As I type this, I'm currently on volume 22 and awaiting for the library to receive the last three volumes. When I started this series years ago, it made me think of
InuYasha
and
Black Bird
, since they're both fantastical romance stories with bits of comedy and drama here and there. Of course, these three stories do have their differences and simply share similar elements to them.
Kamisama Kiss
features Nanami Momozono who is abandoned by her father who is escaping from gambling debts. She somehow manages to continue her schooling and is taken into a shrine by a kind man. The stranger ends up passing on his shrine to her, giving her a place to stay and a sense of purpose, but with this shrine is a dog guardian (or something like that) by the name of Tomoe. Throughout the series, Nanami learns the ways of taking on the responsibilities and powers of caring for a shrine as well as learning about Tomoe and the other mystical entities that cross her path. While at the beginning, it seems like this story will be all cute and fun filled, but as the story progresses, it does get a little dark, especially when Tomoe's backstory slowly reveals itself to both the reader and Nanami. Currently, where I'm at I have no idea where things are going as it doesn't look too good for our main characters, but I'm hopeful since usually shoujo manga leave on a fairly good note. Even though at times I do kinda mix up this story with
Black Bird
's, they do have a different feel to them and are distinctly enjoyable in their own way. So, if you enjoy stories like
InuYasha
and
Black Bird
, you might enjoy this manga series. It also has an anime, which I'm looking forward to checking out soon.
Giant Days (2015)
Author:
John Allison
2016 was the year I decided to really explore the world of graphic novels and comic books. Despite having one unsuccessful attempt, the rest of my findings have been rather positive and now I've invested more time and money into the medium. This simple series was one I looked forward to checking out and anticipated releasing. This comic follows three female college students Esther, Susan, and Daisy. These three ladies come from different backgrounds and are very different in personalities, but quickly become close friends within weeks of the school year.
Giant Days
doesn't follow a strict storyline, but simply lets its characters live out their everyday lives and organically lets them grow with each relatable and sometimes bizarre chain of events. Aside from the entertaining characters, I really enjoy how much the author has fun with their environment and takes the main characters' personalities to almost bizarre extremes such as Esther bringing Susan back to reality after depriving herself from sleep for multiple days. At the same time, it does touch on parts of reality such as reuniting with old friends from your past and trying to relive the glory days, unrequited love, sexual identity, and just the crazy rollercoaster that is university life.
Ophelia's Favorites
Versailles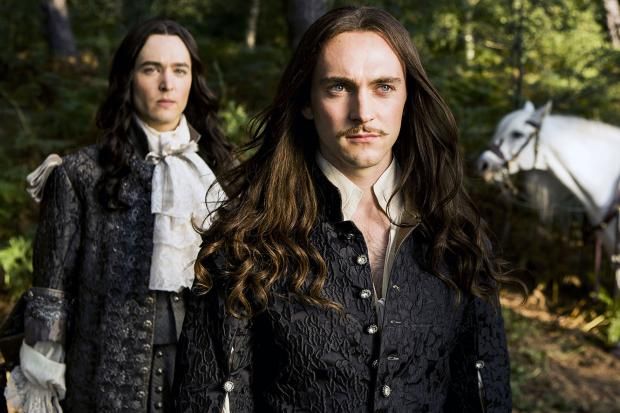 Starring: George Blagden, Alexander Vlahos, Tygh Runyan
Status: Ongoing (2015- ?)
Genre: Historical Fiction
Synopsis: In 1667, 28-year-old all-powerful king of France, Louis XIV, decides to build the greatest palace in the world - Versailles. Drained budget, affairs, and political intrigues complicate things.
There's a multitude of shows based on historical events. Versailles is more than simply another in a long line that includes Downtown Abbey, The Tudors, and The Borgias. The show depicts the beginnings of what would become a lavish period of history with the 28-year-old Sun King deciding to turn his father's hunting lodge into the new seat of power. Of course, the first few episodes are slow as they must introduce the viewer to the cast of characters they'll be spending ten episodes with. However, the series quickly picks back up as it heads toward season 1's conclusion. Another highlight is that the scenery and costumes are as gorgeous as the people wearing them.
Marvel's Daredevil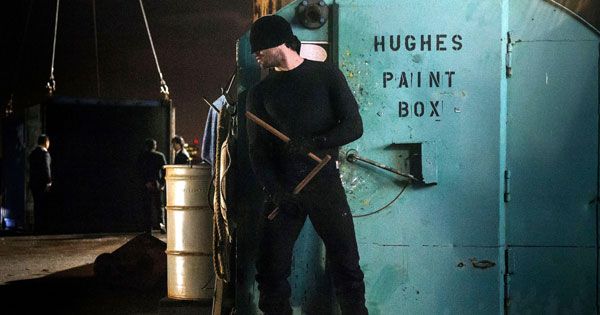 Starring:
Charlie Cox, Deborah Ann Woll, Vincent D'Onofrio
Status:
Ongoing (2015 - ?)
Genre:
Superhero action, crime drama
Synopsis:
Matt Murdock, with his other senses superhumanly enhanced, fights crime as a blind lawyer by day, and vigilante by night.
Netflix is the perfect place to revive Daredevil after the terrible Ben Affleck, Jennifer Garner film from 2003. This series is much grittier and serious than the campy 2003 effort. Perhaps this is entirely due to the involvement of Netflix where shows like Orange is the New Black and House of Cards have thrived. Where else could a superhero do more without the restrictions of a two-hour plot? It's the perfect formula to explore Matt Murdock's interesting story. He was blinded as a kid due to an unfortunate accident. This doesn't leave him powerless though as the character has graduated law school and opened a firm with his best friend, Foggy. These are characters I loved as a comic reader brought to life in a fulfilling way. Charlie Cox is instantly likable as he switches from lawyer to vigilante. It's not just the hero who's more complex in this form. Vincent D'Onofrio (Law and Order: Criminal Intent) plays Wilson Fisk, the criminal mastermind known as Kingpin. This version of the character is damaged and flawed, which is exactly what makes D'Onofrio so fun to watch. Season 2 brought in a familiar face for fans of The Walking Dead. Jon Bernthal plays Frank Castle, better known as the Punisher.
Artist:
Inaba Koshi, Steve Salas
Album:
Chubby Groove
Release date:
January 18, 2017
Label:
Vermillion Records
It's common knowledge that I'm a fan of Inaba Koshi and his work with B'z. I was really looking forward to the album once I heard that Inaba was teaming up with Salas. They're both accomplished musicians in their own right. This isn't the first time that Salas has worked with the B'z duo. Salas' 2008 album, Set it On Blast!! featured a song that included a collaboration with Matsumoto Tak. He had also guested on Inaba's solo albums, Hadou (2010) and Peace of Mind (2004). Inaba sang a cover of The Clash on Salas' 2010 album, Jam Power. This album is my latest favorite to listen to on repeat. There's not a single song that I dislike or would skip. The genre is more varied like Inaba's solo work rather than the rock, blues style of B'z. Give it a try!