A-Kon 24
[2013.05.31] Hilton Anatole Hotel in Dallas, TX
featuring: NSDP & exist†trace
NSDP
Atsushi: vocals
Yui: guitar
Kuro: bass
Shue: drums
Keiji: keyboards/programming
Honestly, I wasn't looking forward to this band and I openly expressed that to a few friends. The PV A-Kon decided to put up on their site didn't give much promise to the band's talents. I had some pretty low expectations, but I still listened with an open mind. When the band came out, they were full of energy and charisma. Their music really surprised me! I really should've learned from seeing MUCC and Sugar live. Anyway, their music is a mixture of ska, rap, and rock. I don't think I've heard anything like that from Japan, especially from the combination of musicians from other bands. Maybe Cyntia will have a future guest appearance in America someday soon as Yui is the guitarist for that band and Babel Entertainment has been bringing over some awesome j-metal bands lately. Anyway, I could understand Atsushi's appeal. He's like Miyavi's rebel twin, but shorter. He was shirtless the whole time.
I guess he's allergic to shirts like Kyo.
He interacted with the crowd as much as he could. He even mentioned that his English wasn't very good and that we should learn Japanese. He had a really long speech, I think it was about how he felt about being there and dreams and such. I couldn't completely understand it and I think the people around me got bits and pieces. He made a bold move by jumping into/joining the crowd for a moment and touching everyone's hands. I guess I should be fangirling over touching the hot Japanese man more than once, but I'm not. Anyway, I really liked their music and decided to go pick up their CD when I got a chance.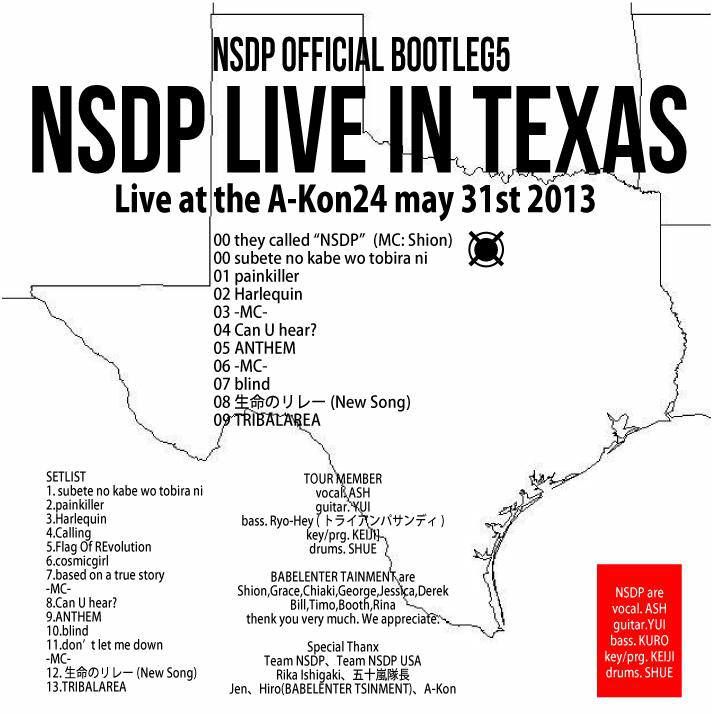 exist†trace
Jyou: vocals
Miko: guitar
Omi: guitar
Naoto: bass
Mally: drums
Normally, I would say that this next band is one I was excited to see, but I've been having conflicts with exist†trace's current musical direction, especially with the addition of Miko sharing the vocal spotlight with Jyou. I have wanted to see exist†trace live. I even thought about going all the way to Washington a couple years ago to see their U.S. performance at Sakura-Con, but D won out on that battle. Anyway, there was some sort of excitement to see them. Despite my disagreement with their music direction, I still enjoyed them, otherwise I wouldn't have traveled so far to see them. Their set started with the members filing onto the stage one by one with welcoming energy. If you've been keeping up with their little video segments on Kawaii Girl Japan, then you would know about the stage formation change to be a star shape. Jyou and Miko in the forefront, Naoto and Omi on the side points, and Mally being the top point. Also the decision of Miko singing was mentioned in a video as well and her reasoning behind it. They stuck by their word and also their message on Twitter, I believe, about performing some new songs from their single,
DIAMOND
. When the performance began, I was so shocked to hear "JUDEA" live. It was just as amazing and powerful as I imagined it would be. I didn't think I would hear Jyou growling, but I'm very happy that they had this mix of old and new. Miko spoke a little English during the MC portions and Jyou did her best. She was really cute. Another surprise was that they picked a lot of songs that I enjoy, because honestly I was nervous about the potential song choices. Everyone seemed energetic, the crowd was very responsive, and Jyou's voice was absolutely beautiful and passionate. Hearing Miko's voice in the forefront for the first time was a little awkward and not that great. I was anticipating that they only had one song together with Miko singing with Jyou after "GINGER" for this new single, but I was wrong. I hope it doesn't stay like that for long. Anyway, I had a lot of fun and I wouldn't mind seeing them live again. Here's the official setlist from Kawaii Girl Japan:
Setlist
1. Diamond
2. JUDEA
—MC—
3. Kuchibiru
4. Daybreak
5. RESONANCE
—MC—
6. KNIFE
7. Cradle
—MC—
8. HONEY
9. JUST ONE
10. TRUE
11. VANGUARD

ENCORE
12. liquid