A Thousand Suns
[2011.03.03] Toyota Center in Houston, TX
featuring: Paper Tongues & Linkin Park
Paper Tongues
Originally, the Prodigy was supposed to be the opener, but since Chester's health was bad at the time, they had to postpone the show. I was sad and was really looking forward to seeing those crazy Europeans run amok on stage, but I'm gonna be tentatively looking out for U.S. dates.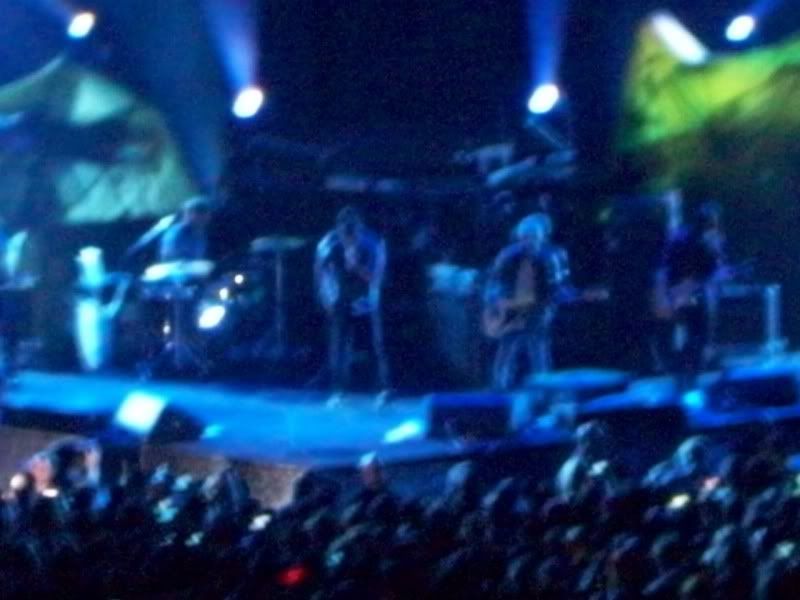 Anyway, beforehand, I checked out these guys on last.fm and YouTube and they seemed to be pretty decent. I definitely didn't know what to expect when they came on stage. The arena still had some empty spots, but there were still a lot of people there to see their performance. They brought a lot of energy and entertainment on stage. Their music was very upbeat and catchy. You couldn't resist not moving to each song they played and it looked like the audience down below on the floor were enjoying themselves by moving along appropriately to the music. The vocalist was very charismatic and energetic. You could tell that he really loved what he was doing and moved around the stage a lot. My friend and I commented on his crazy dancing too. Made me want to imitate it where we were sitting.
Linkin Park
As the crew set up for the main performance, my friend and I were pumped to finally see Linkin Park live right in front of us. Deep down inside, I was a little nervous as well that things wouldn't turn out how I've pictured it in my mind for several years, since their debut.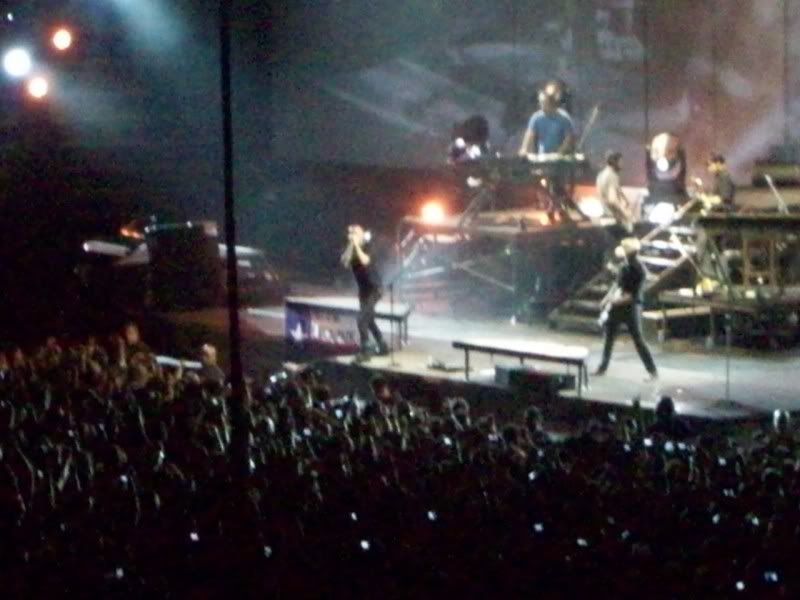 The arena got dark and "The Requiem" played as the boys stepped on the stage. The crowd went wild and "Papercut" filled the arena. I immediately jumped up and started rocking out. Soon after, my friend was joining me and we were singing along to the lyrics with fiery and passion. You could feel all this amazing energy coming from the stage and flowing throughout the crowd as we united with this LP classic. They kept the energy up for a while and you could tell the audience was pleased with every lyric that echoed throughout the venue. My friend noticed that most people knew more of their older stuff compared to their new material. They did a great job mixing it up and even when they weren't on stage and one of their interludes from
A Thousand Suns
was playing on the screen, you could still feel something amazing lingering in the air.
After one of their interludes, the arena was really dark and kinda quiet, then you could seeing all of these illuminating cell phone lights sparkle in the crowd around the whole theater [as well as a lighter or two]. Chester returned to the stage in awe and commented that that was the most fucking amazing thing he has ever seen. He also added that he was sad that they had to cancel the show, but was happy that Houston was their last stop. Anyway, I believe this set list is mostly in order minus a few of their new songs. I was typing it into my phone after each song, but there were a few new songs I didn't know and made a mental note where they were.
Setlist
[mostly in order]

The Requiem
Papercut
Lying From You
Given Up
What I've Done
When They Come For Me
No More Sorrow
Fallout
Burning In the Skies
Waiting For the End
Numb
Breaking the Habit
Robot Boy
Catalyst
Crawling
Faint
One Step Closer
Wisdom, Justice, And Love
Iridescent
Shadow of the Day
New Divide
In the End
Bleed It Out/Place For My Head



I was extremely happy with the show and I could tell everyone else was satisfied as well, especially my friend. They mixed up the old with the new, interacted with the audience, and showed a new side of them that I didn't know about. Mike did a short solo on piano and spotlight on him and Chester played guitar on a couple songs. Definitely looking forward to another LP show!