WHAT'S MY NAME? -North & South American Cicuit-
[2011.11.08] Trees in Dallas, TX
featuring: THE COMMOTION & Miyavi
THE COMMOTION
I guess a few people didn't get the memo that there was an opening band for this show. Well, they're a Dallas base rock band with some easily relatable characters. Their music is pretty decent. Nothing super spectacular, but not terrible either. Most of the attention was stolen by the long haired guitarist on our side of the stage (stage left) whipping his hair like a mad man. The bassist and the vocalist did some teamwork on vocals and keeping the song going. The other guitarist also brought some memorable solos and shared some solos with the vocalist. It was interesting seeing how three guitarists unify songs. I always thought that three is too many, but some bands can do it like VII-Sense and others...seem awkward *coughs*CassisPV*coughs* Lastly, I thought the drummer was pretty cute.
Miyavi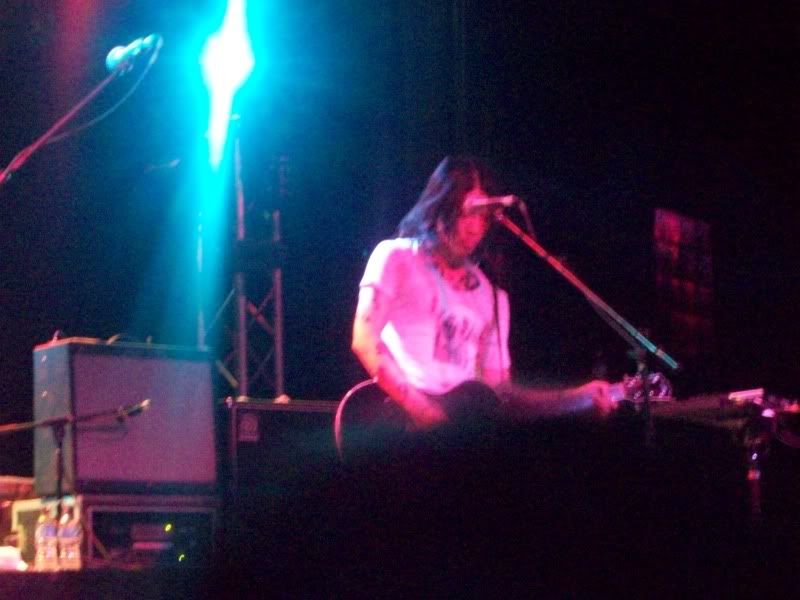 After their set was over and four filler songs, I listened to everyone yell and such when the curtains opened and Miyavi and Bobo appeared. I was a little anxious myself, since Miyavi hasn't quite reached my high expectations on his live performances.
Anyway, he opened up with "WHAT'S MY NAME?" and I stopped actually saying his name, I just went along with the lyrics. It gets a little boring or something for me doing it the other way I guess. There was a lot of energy and I was really surprised. Dallas Miyavi fans are pretty decent and not rabid idiots that just have one thing on their mind...or lack there of. Miyavi and Bobo had a lot of energy too. A different energy I've never experience that made me enjoy the show even more. They still played off each other, but maybe Miyavi heard my cries and brought everything that was missing from his previous shows. So, a few notable things about the show. Miyavi had a few wardrobe changes. He started off in a chic little number with a blazer, sunglasses, and hat, then ditched those items and was left with his casual shirt and pants. Then the shirt was gone and everyone got to see his new ink work. I'm not that fond of it, mostly the ones along his neckline. He has some new tattoos on one of his calves as well. After taking a break from the neverending "Futuristic Love" number, which was awesome and gave us some nice dance club vibes, he had a black tour shirt on. Bobo had his signature short shorts which I think looked shorter than last year and a t-shirt that said "9:30" which Miyavi teased him about.
Bobo always wakes up at 9:30 in the morning(x4)
Miyavi had an interesting selection of songs. He mostly stuck with newer things from his last album, threw in some unreleased tracks, and even took some requests from the audience. One of the new songs required some audience participation and the other was just...sexy. One of the staff members brought in a stand with a booklet and one of the songs he needed his Mac for the lyrics. He moved around a lot and had mics strategically placed on all areas of the stage to give the fans the most from the experience. There was one MC that stood out from all the others. No, he didn't announce he was having another kid...although, I wouldn't be surprised if he did. He told us how he was happy to be back in Texas and tried to say some Texan words like "y'all" and "rodeo". I'll give him a B for effort. It was cute. Everyone tried to help, but eventually he was like "fuck it" with a smile. Apparently, he's become a fan of Tex-Mex. His English is about the same give or take. He still has that mumbly thing going on and his pronunciation could be better, but it's understandable and that's all that matters. Another thing that stood out was the set up of the whole performance. I believe last year he had a three person show, but this time Miyavi was the one working the electronic platform...even though there was some minor difficulties. Another cute moment. So, here's the set list. There could be errors, but you know I try.
Setlist
[no particular order]

What's My Name?
Freedom Fighters
Jibun Kakumei
Selfish Love
Shelter
Universe
Strong
BOOM-HAH BOOM-HAH-HAH
Are you ready to ROCK?
Senor Senora Senorita
TORTURE(?)
FUTURISTIC LOVE
SURVIVE
2-3 new songs
Ossan Ossan Ore Nanbo
Overall, I was very pleased with the show
and partially content with the VIP
. I was happy I converted a friend to his music too. Definitely surprised by the energy from the crowd and Miyavi as well, which was very refreshing and exactly what I needed. If Miyavi takes a break before releasing a new album, I know it will be great especially from what I heard at the show.