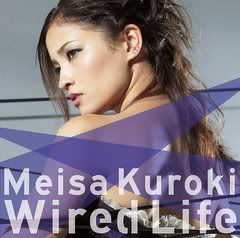 Meisa Kuroki - Wired Life (2011, Japan) Rating: 3/5
Favorite Tracks: Wired Life, Wired Life (No Escape Remix)
Lately, I've been stuck on how to feel about the latest releases from Meisa. Like the title track will be great, but the b-sides are so-so. Anyway, "Wired Life" is has a nice balance of dance and chill vibes from the verses to the chorus. Another great electro-pop track with wonderful vocals and a catchy chorus to go with it. "UPGRADE U!", like the previous single's b-side, is not as impressive. It sounds like a generic electro-pop song that any American pop singer or less popular, new jpop artist could come up with and she's better than this. "One More Drama -PING PONG REMIX remixed by dee.c-" almost reminds me of those 90s pop songs with a modern twist. It's not better than the original, but it's a pretty decent remix. Then there's an instrumental version of "Wired Life". If you purchased the
Ao no Exorcist
version of the single, the tracks are a little different. The second track is "Wired Life (No Escape Remix)" featuring Okumura Rin. It's a very dramatic musical piece with some dialogue by, I'm assuming, Okumura Rin, and Meisa's voice lurking beneath the darkness and thunderous booms. "Wired Life (
Ao no Exorcist
ver.)" opens with a piano intro. The song is basically the same as the original, except for that and it's shorter. The instrumental version is part of this version of the single as well.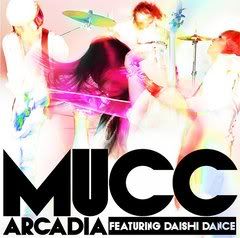 MUCC - ARCADIA (2011, Japan) Rating: 4/5
Favorite Tracks: ARCADIA, FUZZ -Thunderbeat Ver.-
Look at MUCC experimenting again. Aww~ I'm sure there are some fans who didn't like this experimental piece, but I did. "ARCADIA" has easily become a drug since its release. With its piano intro, electronic elements, and fun rock sound, it was an easy winner. Honestly, it reminded me of "FUZZ". It gives the same great, addicting vibes that make me like MUCC a little more. Way to go guys! "NAME" is a slower song to show off more of Tatsurou's emotional vocals and the rest of the member's musical skills. I guess it's nice and necessary for MUCC fans to hear that they haven't lost their music foundation. I don't hate this track, but it's nothing I'd listen to repeatedly like "ARCADIA". "FUZZ -Thunderbeat Ver.-" sounds like the introduction to some grand wrestler or something. More rock, more synths, and more energy. How could you go wrong there? It's pretty badass actually, even though Tatsurou's English isn't the best, but I can understand it for the more part.

BORN - Psycho Diva (2011, Japan) Rating: 4.5/5
Favorite Tracks: Psycho Diva, DAMNED, DIRTY STACKER
BORN has been on a bit of rocky road for me since they joined PSC, but what they've made isn't terrible just...different. "Psycho Diva" has pieces of their old musical arrangement, but it's sadly buried by this new PSC vocal structure that has been embedded in nearly every BORN song with a fast pace rock sound. You know, that whole yelling thing that's getting boring lately. The song's still good, the bass is killer, and the PV is pretty entertaining. "DAMNED" takes a slightly different direction by opening with some acoustic guitar work and incorporating it with the verses. I really like the experimentation in this song and Ryouga's voice is quite lovely. I just wish they didn't have that stupid group yelling nonsense in it. Enough is enough! Before I started reviewing this, I totally forgot the track on the regular edition, "DIRTY STACKER". OMG! This track is amazing and probably the best thing on this single. It is filled with so much energy and it just brings up great memories from lives. Sure, it still has that stupid group yelling thing in it, but it's less annoying in a way. I just hope that the vocal arrangement took a turn for the better. Totally looking forward to the album, guys (and maybe a U.S. comeback?)!

Verbal Jint - Go Easy (2011, South Korea) Rating: 4.5/5
Favorite Tracks: 원숭이띠 미혼남, 좋아보여, 우아한년 2012, 깨알같아
I wasn't sure whether to review this album or not, but you see it's here. Guess I caved into reviewing this underrated genius. Forgive me for the lack of translations for the tracks, by the way. "원숭이띠 미혼남" opens up the album with beautiful acoustic set, a smooth flow, and Block B's ZICO. Perfect combination. It's very calming and easy to listen to without being tempted to fall into dreamland. "좋아보여" is the reason I was looking forward to this album. It features the Black Skirt and fuses some catchy piano melody and borderline R&B/hip-hop elements. Honestly, I can't get enough of this song. The vocals just work together
so
well, it's ridiculous! "넌 내게 모욕감을 줬어" opens with a dramatic rock sound and vocals from Koonta. It has a hint of a reggae sound to it with a lot of great tropical musical sounds to make it playfully dramatic and funky. "우아한년 2012" slows the pace down with a deep R&B outline and an equally deep rap flow and attitude. It has some recognizable profanity in it if you really pay attention and don't know any Korean whatsoever. Anyway, it features San-E and Okasian which bring some really great vocal talent to this chilled out track. "긍정의 힘" has an ol' skool sound that your parents could appreciate. It's an easy going, positive track with a vintage musical backing which simply makes you feel good in the end. "Want You Back" starts off with some radio static and an ol' skool "Love Jones" R&B sound. It's quite interesting hearing such a sound from South Korea, but it's great that the genius Verbal Jint and his guest NODO could dig up these gems for your listening pleasure. "Luv Songz" keeps that throwback R&B sound (did you catch that Wonder Girls line? XD). C-LUV's Tae-Wan makes a good vocal contribution to this slow love song and makes even more enjoyable, even though he uses those throwback cheesy R&B notes in there. "약속해 약속해 2012" brings back that acoustic set sound and Urban Character Kappa's Cho Hyun-Ah into the mix. There's a couple song references in there too. (Can you find them? 8D) "어베일러블" keeps the easy feeling the last few tracks have been giving us. It mixes modern and throwback beats together with some great vocal work by the Jint himself and Lady Jane. When you think you know what's going on in this mellow hip-hop song, it switches up on you toward the end. "깨알같아" continues this chilled out mood for the listener, but the music steps into the 90s R&B sound which is very lovely for me. "My Audi" ups the beat, attitude, and takes a step back into the 80s with another one of my favorite rappers the Quiett. It has a great bass track and kinda makes me want to bust out the Adidas track suit and a Kangol. "우리존재 화이팅" closes out with a more playful sound that keeps that retro light guitar and a nice rap flow from the Jint. Very vintage~ This album is quite amazing and the title fits the feeling of the songs very well. Love you, Jint!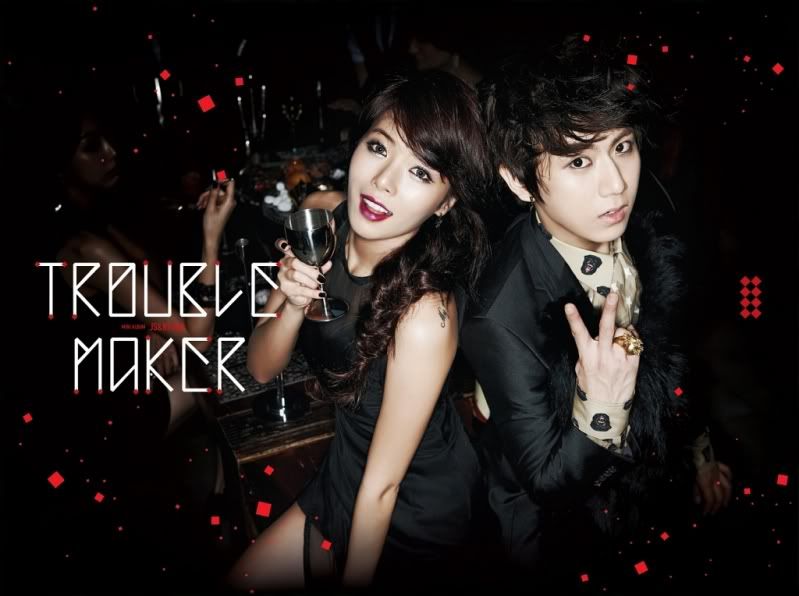 Trouble Maker - Trouble Maker (2011, South Korea) Rating: 3.5/5
Favorite Tracks: Trouble Maker, 듣기 싫은 말, 아무렇지 않니
I'm sure some of you are groaning and rolling your eyes as you see this on the list. Are you expecting me to rip this debut mini-album apart like I did HyunA's? Guess we'll see~ Their debut CD starts off with an uncreative titled song by the name of "Trouble Maker". Honestly, this is the main reason I wanted to listen to this mini or whatever. I thought the song sounded pretty cool, even though it sounded like something Infinite should be using. Now, you know my feelings toward HyunA and I've said this before when I posted the music video, but I'm glad that Hyun Seung's voice masks hers for the most part. "듣기 싫은 말" starts with a promising 90ish sound to it and some powerful vocals from, surprisingly, both of them. Next is "Time", which I'm really confused if it's the same duo or a different one, because the vocals sound different from the previous track. Nonetheless, this slow track isn't that bad. Nothing I'd listen to constantly, but it's alright. "아무렇지 않니" slows it down even more to a bass driven R&B track that has questionable vocals too. Oddly enough, I really like this song. It's like a pre-Rihanna era Chris Brown, very smooth and mesmerizing. There's vocal potential, but still a good track. Surprise, surprise, I didn't rip this duo apart. I'm curious if there's going to be a continuation somewhere. Guess we'll see.
If there's something you want me to review, check out
this post
on how you can submit requests.