"The Milky Way" Global Showcase Live
[2013.11.04] Verizon Theatre in Grand Prairie, TX
featuring: VIXX
Attending my first kpop concert honestly made me nervous as I have this preconception about all kpop fans in general. I just automatically assume that they're a bunch of squealing high school girls, but I had no idea what kind of people VIXX's fans, Starlights, were like. They seem kinda quiet compared to say Blackjacks, E.L.Fs, SONEs, and groups of that nature. VIXX aren't from the Big 3 and don't have that kind of popularity, which is another reason I was surprised they were coming to Dallas. My friend and I had never been to this venue before, Verizon Wireless Theater, but it was rather large and the crowd filled it up nicely. Sure, there were a lot of seats available up top, but I thought the crowd was good considering the timing. Our seats were on the floor level, right side of the stage, which was quite nice. Unfortunately, there were no cameras allowed during the show even though you can find some sneaky fancams of the showcase on YouTube.
Looking at the stage, it was rather plain. There were no props or scenery, just a stage with a few screens placed above. My friend and I joked around a little bit about some other kpop groups, saying the wrong fan names and stuff, and I must say that the fans around us were pretty nice. For the most part I can say that Dallas Starlights are pretty chill and positively passionate about VIXX.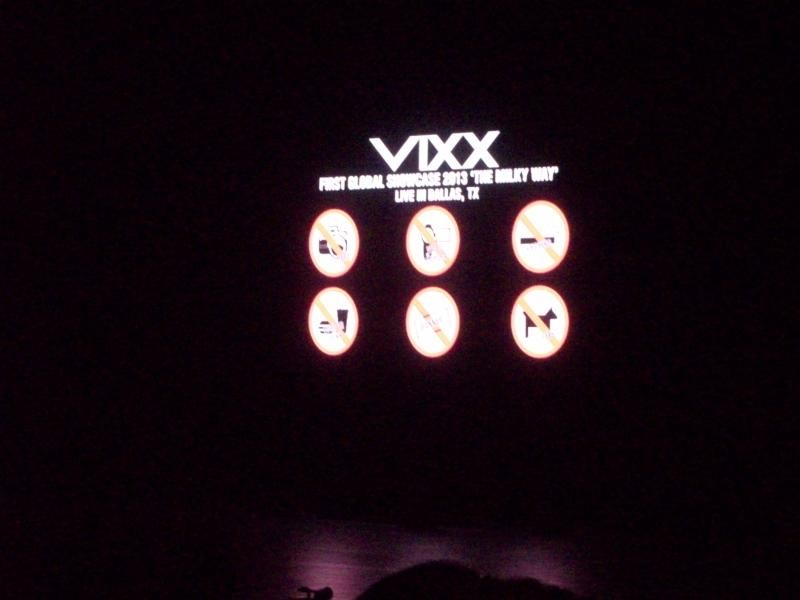 The show started with some exciting visuals of the boys on the big screens and of course the audience was cheering. My nerves went away and I was nothing but excited...well, there might've still been a little nervousness lingering in the back of my mind. VIXX started off with a flawless performance of "On & On" and I was happily singing along "I need therapy, lalalala need therapy~". My friend was automatically into it as well. The next song they performed I was surprised to hear at all. I expected all the singles they've promoted, but to hear my favorite track, "Light Up the Darkness", made me super happy. I couldn't help but let my body lose control and I probably embarrassed my friend a little. The song is awesome and remains my favorite VIXX song.
Two songs in and I was surprised it was already time for an MC break. Unfortunately, the whole section was partially translated, which is a shame as VIXX really loves their fans. I felt bad for them as they spoke and would look off stage for an English translation, but eventually they gave up and just kept trying to convey what they were trying to say to us as best as they could. During this segment, they picked some questions and requests from a board written by the fans. This gave me a chance to appreciate the bond the members have with each other and how playful they are. It felt very genuine. I think they also picked a winner from the audience to participate in something later. We also sung "Happy Birthday" to Leo.
Next were some special solo and duo performances. This section really opened my eyes to how talented these boys really are. Leo started with a piano solo of a song apparently called "Please". It was a very beautiful song and it was great to hear Leo's voice fill the room. I hope he receives more solos, maybe something similar to older Big Bang albums where they have solo songs on the group's album. The energy went up with Ravi's rap solo, "Dirty Player". Upon looking back at what the song sounds like, let me remind you that he was alone and there were no back-up dancers during this whole show, so Ravi had to hold down the stage solo. Honestly, he definitely held it down. He got the audience hyped and really nailed his performance. I really enjoyed him even more than I did initially. Next, the winner of the raffle appeared on stage with Hongbin and Hyuk and took a seat on a stool placed on the stage. There was a medley of American tunes like "Summer Lovin'". The whole scene was Hongbin and Hyuk competing for the fan's affection with different little gimmicks like holding an umbrella in the rain, giving her a car trunk full of balloons, showing off some abs. It was really cute and it made me smile. The fan ended up picking Hongbin in the end and Hyuk threw something out into the audience. I don't know what it was. Maybe candy or something. Ken was next on stage with a cover of Chris Brown's "Turn Up the Music". I kinda cringed a little at the choice, not because I dislike the song, but just the artist's dark past. I think Todd in the Shadows kinda brings up those sorts of feelings. Anyway, the cover was really fun and Ken's pronunciation was for the most part decent. Ravi also made an appearance for a rap break in the song. They both entertained the crowd very well and I enjoyed myself along with the other fellow Starlights. Last but not least was leader N's solo and the shift in my bias list for this group. N came on stage in all black, turned his back to the audience, and tied a blindfold over his eyes, then the talent was unleashed. I must say N owned that stage with his dramatic and powerful movements. I was very impressed. I'm really happy that each member got to showcase their talents. It made me appreciate what they each contribute to the group and just enjoy them as a whole even more.
After the solos, the boys regrouped to perform a very energized song from their debut, "Superhero". I was very happy to see this song live. It definitely raised the mood 10 times more and we were all into it. Then it was time for another MC break with the audience. I believe they gave us a choice of which song they would perform from a girl group and decided on SNSD's "I Got a Boy". It was an amusement segment with leader N being really into it while the others obliged the request, especially Leo. They ended up stopping and starting the music a few times for N to pick on a couple members, especially Leo, about not being as energetic or in sync as the rest of the group. Eventually, they got it together and it was very entertaining, even though I despise the song. N is really good at these girl group songs like Infinite's Sungjong. Continuing to cater to the fans, the boys performed "Love Letter", which is a sweet acoustic track that really solidified our bond with VIXX. There was minimal choreography and more focus on coming close to the stage and reaching out to the fans, which I think is sweet and it felt very sincere. To keep up this connection with the fans, they started explaining a move they wanted us to do to the chorus of "Rock Ur Body". It pretty much was a rolling motion with your arms. Very simple~
The guys walked off stage and naturally the fans chanted for more. In all my years of concerting, there's always more. You can kinda tell by the dramatic pause. Let the guys hydrate and recharge! Soon they filed back onto the stage with an acoustic remix of "Hyde". Would've liked to hear the original version, but this remix was lovely to hear. It brought back that intimate connection they formed with "Love Letter". They finished up their set with "G.R.8.U" which is a cute and bright song which I'm sure made everyone feel good. Soothe those wounds of having to leave VIXX's warm presence.
Setlist
On & On
Light Up the Darkness
MC
Leo Piano Solo
Ravi Solo
Hyuk & Hongbin Fan Skit
Ken Solo feat. Ravi
N Solo
Superhero
SNSD – I Got a Boy (Dance Cover)
Love Letter
Rock Ur Body
~*~
Encore
Hyde (Acoustic Remix)
G.R.8.U
My friend and I weren't in a rush to leave the main venue as I didn't want to fight the crowd out, but an announcement paused any potential movement. I was vaguely aware that there were perks for the VIP ticket holders, but I guess they wanted to put together a random deal of joining the hi-touch or whatever for non-VIP ticket holders by putting something under the seats. My luck is terrible, so I wasn't expecting to be in one of the chosen seats, but the way they went about it was a little confusing. Fans looked confused, but once that was over and we were shuffled out to the lobby, I didn't care anymore. Fans were gathered back at the nearly empty merch table and my friend and I discussed how much we enjoyed the show. It was our first kpop show and I'm happy I got to spend it with him. I would love to see VIXX again for sure.
Even without back-up dancers and fancy set pieces, I really enjoyed VIXX's first showcase in Dallas. Their choreography was as on point as it is on their music videos and their voices were near flawless. I'm just happy they sung live for the most part. They seemed very genuine and loving when it came to performing and especially interacting with their fans. I definitely became a Starlight after this show. On the other hand, I was disappointed to hear that Jazzy Group failed to deliver their VIP incentives which included an autograph poster from the guys and hearing fan accounts that they either got one or none. I also heard that there was a lot of disorganization when came to the photographs and whatnot. I feel bad for those fans as those tickets were far from cheap. Considering my non-VIP tickets cost more than my Diru VIP passes, which was a little over $100, so you can imagine how much those VIP tickets cost. I hope the disorganization doesn't hinder a second appearance from VIXX, because I thoroughly enjoyed myself.