Oni-Con X
[2013.10.25] Galveston Island Convention Center in Galveston, TX
featuring: ALSDEAD & Saber Tiger
ALSDEAD
Maki: vocals
Shin: guitar
Yousuke: bass
Setsua: drums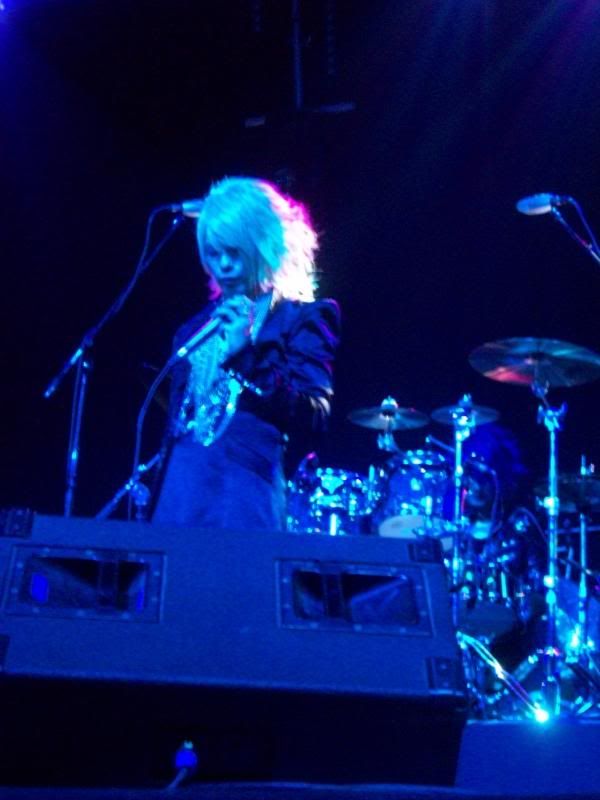 First up was ALSDEAD! Before their set began, Timothy of Babel Entertainment walked on stage and gave us the rules...as well as permission to take pictures without flash. Since the crowd wasn't as big as A-Kon, a few of us had fun responding to what he had to say like, "flash makes pictures look crappy anyway". After being disappointed by the cancellation at SoniCon 2010, I was very excited for this show and honestly, I wasn't disappointed. Although, I was a little worried when the show began. It felt a little uneasy, but eventually the confidence built inside the band and feelings between the band and the audience meshed together very well that evening. I must admit I'm not a huge fan of ALSDEAD to the point that I can name songs off the top of my head when hearing it, but I know enough to point out favorite songs and what not. The energy between the crowd and the band was amazing! We got to sing "Happy Birthday" to Setsua while one of the staff members brought a cake to the stage, which was cute. Yousuke tried his best speaking to us in English. Naturally, it was a cute attempt and I always enjoy when the crowd doesn't criticize these jrockers for trying and just simply encourage them while giggling light heartedly. While Maki entertained us with his voice and interacted with his bandmates from time to time, it was hard to resist Shin strumming away in front of me and teasing us with his bare thigh sneaking out of the slit in his skirt. He was fully aware of it too. How do I know that? He took the time to do some skirt flashing for us.
Damn that man!
He would twirl and dance and prop his foot up on the speaker, letting that slit show off that bare skin. Maki had a lot of energy and passion as he sung each song. The selection was a good mixture of intense and energetic to more melodic and somber where you could feel the pain pouring out from every word.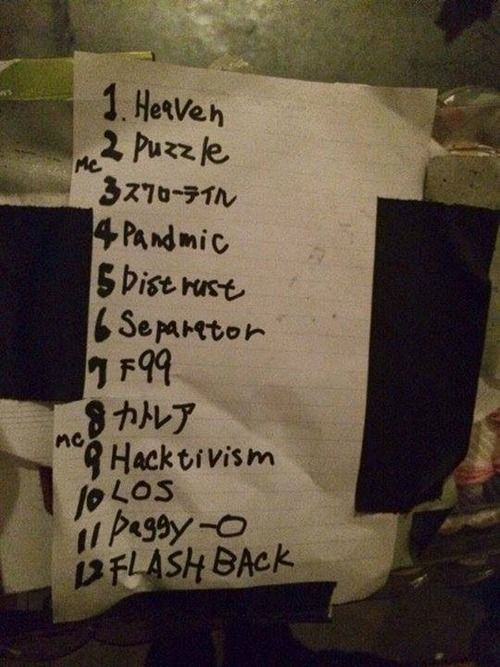 Filmed by rineXsona
Saber Tiger
Takenori Shimoyama: vocals
Akihito Kinoshita: guitar, leader
Yasuharu "Machine" Tanaka: guitar
Takanobu Kimoto: bass
Yasuhiro Mizuno: drums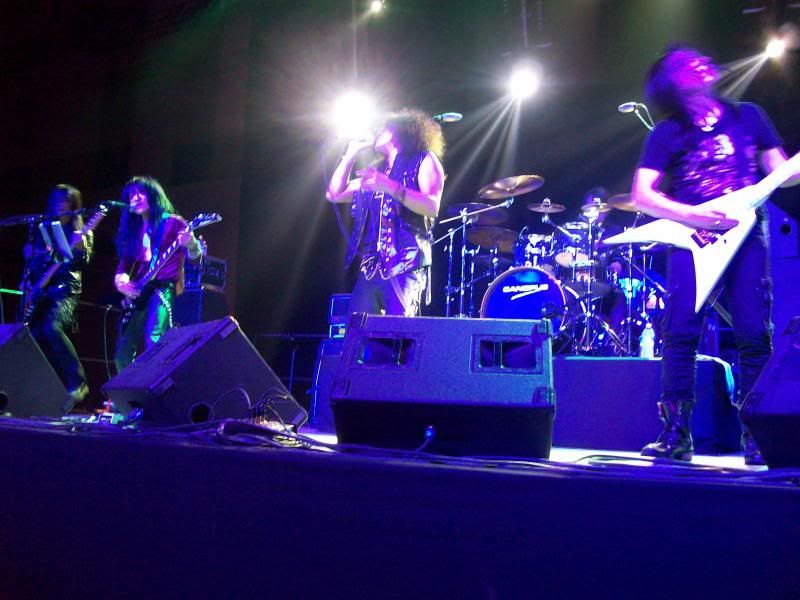 Once ALSDEAD's set was over, there was a 30 minute break while they set up the equipment for Saber Tiger. Most of the people in the room left to do whatever they wanted to do. Personally, I know a little bit about Saber Tiger. I have at least heard of them and that they have a place in jrock history. I also know that the late great hide and D'erlanger's Kyo was part of the band as well. Looking them up on last.fm, I see that D'erlanger's drummer Tetsu and Rolly [most would know him from Suicide Club] was also in the band. Anyway, I patiently waited with one of my friends at the front for the show to start and, similar to ALSDEAD, their start was a little bit rocky. Yasuharu, on guitar, was either a little behind or ahead of the rest of the band which turned my friend off from listening any longer. Before she left, we noticed that a lot of the crowd didn't return, but who was there was pretty responsive and enjoyed the performance. During the performance, Takenori took some time to introduce the members to the crowd. His English wasn't that bad either. It was a unique and personable introduction, which are always nice. Yasuharu was known as the machine because he can play anything like a robot, Akihito was the band's leader, Takanobu was homesick, and Yasuhiro was the youngest of the band. As for the music, I could understand what my friend's complaint was but eventually they did sync up. It wasn't anything like Seikima-II, but it was very energetic and fulfilled that same feeling. I was entertained and I definitely enjoyed the music a lot more live than the one little PV I saw on Oni-Con's page. It's kinda sad that some of the crowd never returned and gave these guys a chance because I didn't regret any minute of it.